The price of taking a child to school right from nursery to attaining a degree is a huge task. The whole affair becomes more intricate when the parent or guardian is unemployed. And when a teenage girl becomes a mother accessing further education becomes a mirage.
There are many cases of young mothers and young boys who are not in school due to poverty. Yet there are many grant programs and scholarships that are given by various institutions and foundations in Kenya, based on the financial needs, academic merit, and even the locale. However, getting these grants or scholarship is not an easy task. It requires huge effort by the one in need.
However there is always an angel round the corner who is ready to lift those who fall. Ms. Flaura is one angel who understands that girl's education is vital to the country. She works tirelessly to secure the future of young and teenage mothers in Kilifi County, by looking for sponsorship for them.
For Neema, a young mother (her real name), lady luck came calling early this year in the name of Ms. Jayne Marquard, who heard her story and decided to sponsor her back to school to complete her secondary education.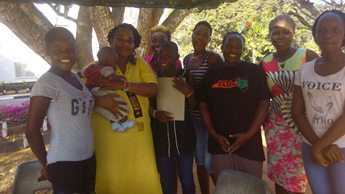 The smile on her face tells it all. She is now sure that she will not be a victim of child/early marriages despite her having a baby at a young age.
By Ebby Nakitari