NOBODY TOLD ME- ganja was deadly! A book authored by Gichure H M Andrew was launched on a cold Friday evening at Pepinos Pizza along Limuru road near Ruaka. The guests arrived at the venue in good time, perhaps an indication of their eagerness to lay their hands on the much-talked about book. Considering that some schools had closed for the August holidays, it was not so surprising to see High School students there; it was a mixed crowd with the young and elderly looking excited with abated breaths.
Mind you, this is the second of a series of books; with the first being NOBODY TOLD ME what lay beyond. eMentoring Africa staff, true to their nature, were at hand to help out where necessary ensuring the event ran smoothly. With great music from DJ MGM, the guests waited patiently as the MC Mr. Ndegwa Ngatia introduced various speakers.
This was not going to be your ordinary book launch! Ms Alice Gaceri, a lawyer warned of the perils that awaited those who got involved in the production, and or, distribution and consumption of the illegal substance. eMentoring Africa CEO Esther Muchiri took to the floor and challenged any guest who could have partaken of any drug to raise a hand. Surprisingly and in honesty, some hands shot up. Mr. Mose, the Senior Welfare Officer at Naivasha Maximum Prison described the consequences the inmates undergo from substance abuse.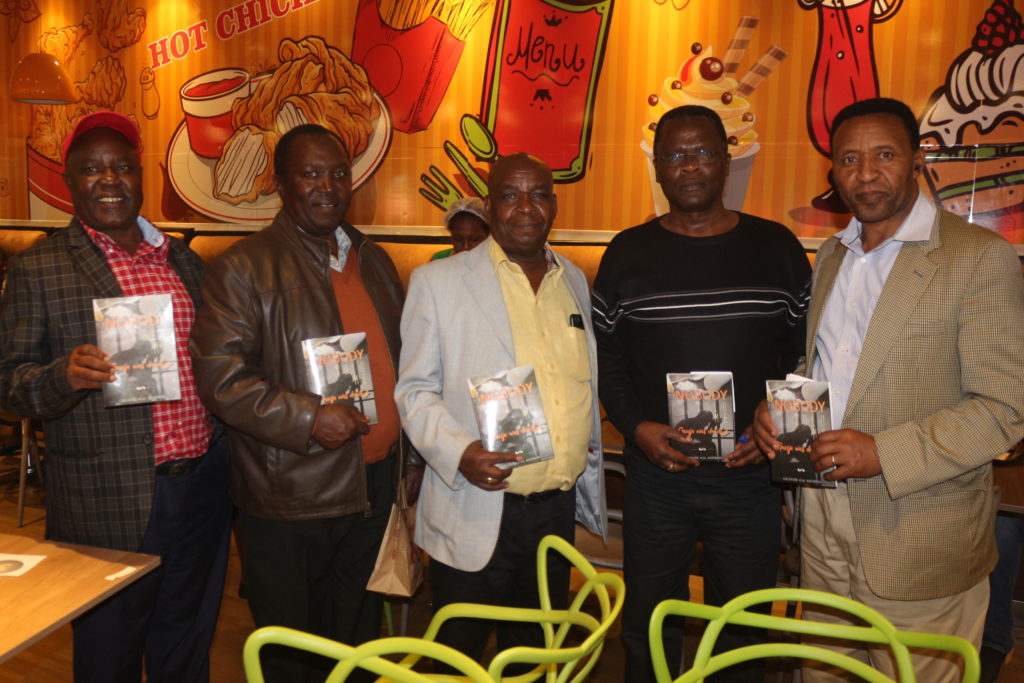 The author of then book read an excerpt from the book as guests listened silently and keenly in anticipation of reading the whole book. Rev. Professor Peter Gichure asked people not to live contrary to the very nature God desired, arguing that our bodies are the temples of God, which should not be corrupted. Professor Peter Wanderi of Mount Kenya University spoke about sports and drugs cautioning guests about partaking of cold drugs that are sometimes laced with elements that are prohibited by sports organisations worldwide. Guests were surprised to learn that many youthful sports careers have been ruined after sportsmen and women used common legal drugs only to find the same having compositions of prohibited drugs.
The Chief Guest, Professor Stephen Kairu Wambugu of Chuka University, Meru wrapped the session by echoing the sentiments raised by previous speakers. He challenged all to the think of the drug menace facing them as a society and a country.
Soon after, the symbolic cutting of the ribbon was done and the guests quickly lined up to buy their copies which the author gladly autographed.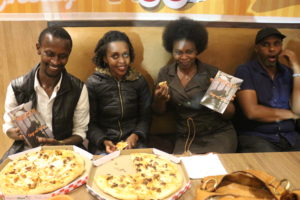 As if that was not enough, the guests were treated to servings of food; with slices of pizza, pieces of chicken and platefuls of fries from the Pepino Pizza kitchen courtesy of the host – eMentoring Africa and the author. This was an opportune moment for guests to enjoy the meal, interact, share stories and exchange contacts. It was great to see guests still lingering around for a photo session and/or chat with the author Mr. Gichure. It was now my turn to realise that in fact NOBODY had ever TOLD ME, Ganja was deadly!
Article by: Ian Munga Githunguri