August 2019 saw over 60 Don Bosco High School Mentees take part in an action packed mentorship boot camp. Building on the first session held in April 2019, the training sessions were focused on career development and lifestyle with an array of activities that were geared towards moulding key soft skills like communication, leadership and team work, among others.
Day 1 was solely focused on Sexuality, HIV and Drugs. Ms Faith Mureithi, an expert trainer on the topic took the floor and in an engaging forum brought the message home. She engaged the youth on having a value based system, stressing on the importance of having family, work, money, friendship and sexual values. She challenged the youth to have strong values, by first having a healthy individual relationship. The mentees were intrigued and sombre listening to her narrate how she had been sexually molested as a child and managed to come out of it strong and determined to live her life through helping others by mentorship and coaching. The importance of having healthy relationships towards career development can not be underestimated. Without proper relationships with both self and others, career development could turn into a far fetched dream instead of reality.
Mr. Onesmas Murithi, a mentor, advised the youth on how to face challenges like drug abuse, peer pressure and coping with stress by counselling, exercising, keeping busy among other activities. He encouraged the youth to work hard, sharing his story from becoming a failing student, to a teacher with a masters in Mathematics. He was followed by Mr. Ken Maina, an entrepreneur, concept developer, and actor with See & Seize Agency Ke courageously narrated how he had reformed from masturbation, got born again, and is now practicing secondary virginity. The participants listened in intrigue as he gave his story. By understanding how to face challenges that they met, and come out stronger and more knowledgeable, the participants would be able to build on this foundation to develop their lives and consequently, their careers.
In the evening, during a man talk session, the participants were advised on drug abuse, how it happens, and how to come out of it. They also learnt of HIV/AIDS its causes and consequences. The youth asked questions raising concerns on how they can either avoid or overcome situations that could lead them into the pitfalls of drug abuse and HIV/AIDS. This was in reflection of these issues that at times hinder both the youth and adults from realizing their career goals. It was important that the youth understand that with growth came vulnerability to engage in retrogressive habits that compromise an individuals ability to develop their careers.
Day 2, Ruuri Elly eMentoring Africa mentor, organizer and coordinator of the boot camp, with assistance from Ebby Nakitari, the boot camp facilitator took the participants through setting goals aligned with careers to help them start and sustain efforts towards becoming who they want to be. They also covered on how to balance curricular and co-curricular activities. To emphasize this, the students were taken through time management skills by using simple tools like the timetable. This was all crucial in enabling the youth to develop a discipline in being able to balance the various activities they engage in, especially striking a balance between work and personal life.
That evening, the participants were treated to a movie night, they watched "Nairobi Half Life" a film about a young man, Mwangi who after completing high school and is jobless decides to move to Nairobi from his rural home in search of a better life. He ends up in a life of crime. Mwangi with a dream of becoming an actor leads a double life as an actor during the day and a carjacker at night. Their gang of five is arrested after a scuffle with a rival gang in their neighbourhood. The arresting officers, a duo of two rogue and corrupt cops murder them one by one until the last three decide to fight back. He escapes the horrific scene and luckily ends up in a drama theatre, becoming the actor he wanted to be and escaping a life of crime and death. With the high levels of unemployment specifically in Kenya and the world in general, it was important that the youth were reminded that crime does not pay, and to encourage them that even without a college education, there were still other options to develop careers, by utilising their talents. It was also important that they understood that peer pressure can lead one into a life of destruction.
Day 3, the final day saw Mr. Stephen Olieka a Human Resource expert with decades of experience having worked with Kenya Airways, Mumias Sugar Company, Safaricom and Mabati Rolling Mills and now a consultant took them through how best to link passion and career. He advised the youth to first understand what difference there is between jobs, occupations and careers. With a career being a life time of work history, he challenged the mentees to identify their objectives and their talents, by understanding what comes easy to do to them. He stressed on the importance of linking careers to passions and talents. Using the acronym PATH he mentioned that it was crucial one understands their Passions, Attitudes towards various things, their Talents, and Heart or what they value. By understanding their PATH, they could then be able to develop careers that are sustainable and fulfilling.
In the evening, Githanda Githae a U.K based Kenyan storyteller, author and teacher, took the youth through an engaging session. The former theatre and TV actor, who also worked in radio, talked of the importance of appreciating education. As one of the participants' interjected asking if there was hope for those who don't excel in class work. Githanda encouraged the participants to find their talent and use apprenticeship to gain skills to enable them become successful. He gave an example of how he had used his talents in oral storytelling and good communication skills to grow from actor to radio personality and now storyteller and teacher at The London School of Drama and Music. He added a feather to his cap when he authored two story books, Fumo's Hadithis Nduru and the Leopard& Fumo's Hadithis Mystery of Chura's Basket. This was evidence of how with careful consideration and planning, one can plot career development to grow into what one wants to achieve.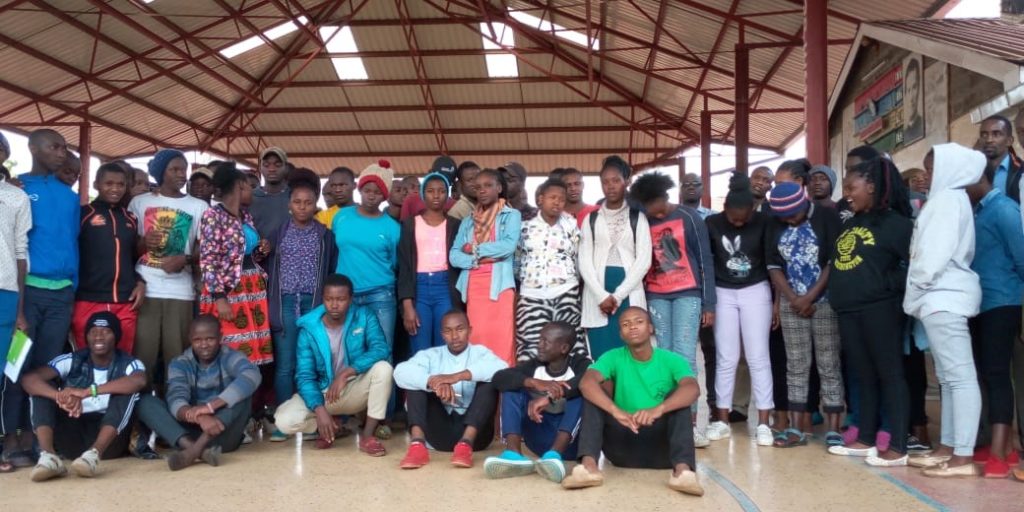 Article by Ian Munga Githunguri