About Samburu Girls Foundation
The Samburu Girls Foundation (SGF) was founded by Dr. Josephine Kulea, to address harmful cultural practices facing children in the pastoralist communities in Northern Kenya. These practices include: forced child marriages where 8 – 12 year olds get married to old men in polygamous relationships; female genital mutilation (FGM) which is rampant among pastoralists; and Beading, a harmful cultural practice where little girls are put in sex unions with unmarried young men, but are not supposed to get pregnant because the children are outcasts born out of wedlock, hence are killed.
The rescued girls are taken to boarding schools for education and safeguarding. At the same time, Josephine has built a 'home' for these girls where they live during the school holiday. The dream of SGF is to see children enjoying their full rights, and the eradication of the above harmful cultural practices by educating the affected communities in Kenya and in Africa as a whole.
The work of Josephine has been recognized widely and has been awarded numerous awards including: Unsung Hero 2011, Head of State Commendation 2012, Acumen East Africa Fellow 2013, UN Person of the Year 2013, Inspiring Woman 2014, Nominee for Transform Kenya awards 2014 and YALI Washington Fellow 2014, Vital Voices Lead Program 2015, African Union Youth Hero 2015, Gender Equality CUNY University award 2016, and was recently recognized by President Obama for her work on his recent visit to Kenya.
Our Mentoring Approach
At eMentoring Africa, we are driven by a desire to 'transform minds and rescue a generation'. As such, the work of SGF is a perfect fit to what drives us. Our goal is mentor, motivate and encourage the girls to excel in their studies. The mentors contribute to shaping the future of the girls by helping them set educational, personal and career goals, especially considering that the girls come from a different cultural background with majority having undergone extreme painful experiences. The mentorship opportunity helps the mentor have a deeper understanding of the girl's issues and problems, while appreciating their diverse cultural and socio-economic backgrounds.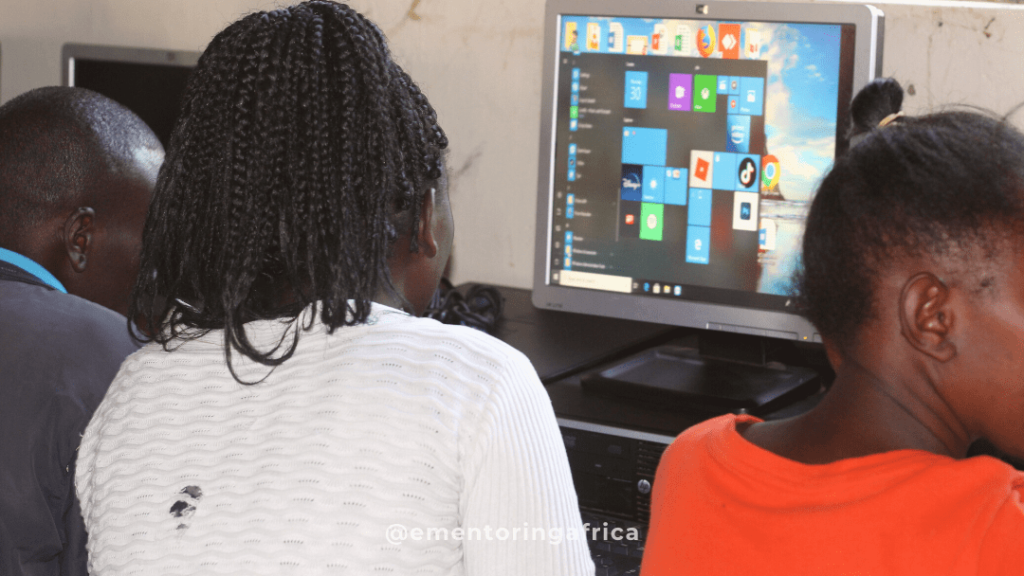 Our Mentorship Objectives
As we walk with the girls through their four years of high school education, we aspire to achieve the following objectives:
Focus the girls to achieve the best KCSE grade they can so that they can get a place at a public university or TVET in Kenya
Help the girls develop self-esteem and a vision for their lives
Build life skills for succeeding at school and beyond
Develop communication skills and encourage personal growth
Provide information on career paths